Preparations in Alba Iulia for Moving the Earthly Remains of Márton Áron 
With the prior approval of the Holy See, a committee of 17 people has opened on September 1 the grave of the Servant of God, Bishop Márton Áron, located in the crypt of the Cathedral of Alba Iulia. The remains of the great bishop, who passed away on September 29, 1980, were deposited on October 4, 1980 in the pantheon of the great hierarchs from Transylvania. The remains were moved in a copper coffin, which was officially sealed and will be moved in the coming days in a stone sarcophagus, which will be blessed in the cathedral, on the feast of St. Michael.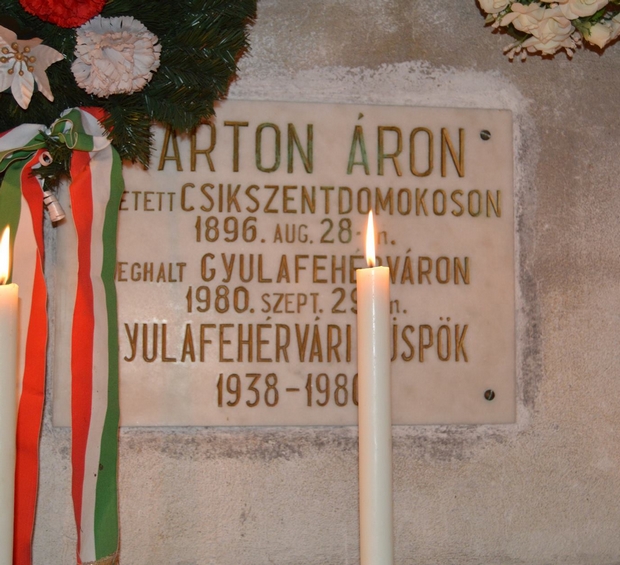 Kovács Gergely, postulator of the cause, was present at today's event and stated to our newspaper: "In accordance with the authorization of transfer, issued on April 22, 2015 in Rome by the Congregation for the Causes of Saints, the coffin of Bishop Áron can be moved only under the leadership and supervision of the Archbishop. It is true that such an event occurs, usually before beatification, but the special request for authorization to the competent organs of the Vatican by the Roman Catholic Archdiocese of Alba Iulia was motivated by the fact that the former grave of the bishop was inaccessible. Lack of accessibility, irregular stairs, being closed for security and opened only on request, or on the occasion of important liturgical celebrations were a major impediment to visitors and pilgrims, who wished to pray or to express their homage at the tomb of the Monsignor. The authorization issued by the Holy See in Latin, contains instructions, according to that any solemnity it is to be avoided and the number of the participants should be limited, for not giving the appearance that the beatification will follow, and not mislead the faithful. By the transfer into the sarcophagus, we want to facilitate the access of the faithful to the tomb of the Bishop, in order to pray and to ask for his intercession. Thus also will intensify the veneration of bishop by his people."
On the occasion of the 36th anniversary of the death of the Servant of God, Bishop Márton Áron on the feast of St. Michael the Archangel, patron saint of the ancient cathedral, Mass will be presided over by the Holy Father's representative in Romania, Miguel Maury Buendía Apostolic Nuncio. As part of the festive preparations, Archbishop György Jakubinyi declared a Novena in the archdiocese.
Szőcs Csaba / Vasárnap
Foto: Fábián Róbert